Starting to write a blog, is really exciting and overwhelming. You want your audience to read your posts and share it with the world. But how will you know who is your audience? How do they find your site? How do they interact with your blog? What kind of posts do they like?
To answer all these questions you need to add google analytics code to your blog/website.
The best part is that Google Analytics is a free tool and all you need is a Google or Gmail account to sign up.
How to sign up for Google Analytics?

Before you start, you have to sign up for google analytics here. After setting up your account, at the bottom of this page click "Get tracking ID"
On the next page you have to agree to Google Analytics terms and service, and then it leads you to your dashboard.
In the dashboard you need to create property by going to Admin –> property settings. This is where you can find your tracking ID.
After you've finished setting up your google analytics account, you can add it to wordpress.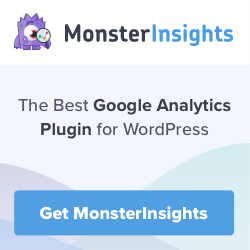 How to add Google Analytics to WordPress
Now, there are 2 ways to do so: The first way is by pasting a tracking code to your theme editor files (more advanced way, which I'm not going to show you here) and the second and easier one is by using a plugin .Since I'm not such a computer savvy girl, I added google analytics to my blog by using MonsterInsights plugin. It's free and really simple.
Step 1
In order to add the MonsterInsights plugin, go to your wordpress dashboard —> Plugins —>Add new —>and then search for MonsterInsights.
Then you have to install and activate the plugin.
Step 2
After installing, the plugin will add a new menu item called 'Insights' to your WordPress admin menu.
Clicking on it will bring the MonsterInsights setup wizard.
Step 3
Choose what kind of website do you have, whether it's a business, a blog or an ecommerce site.
Step 4
Now it's time to connect google analytics to your wordpress by clicking "Connect MonsterInsights" button.
Step 5
Choose your google account.
Step 6
In this step, you will be asked to allow MonsterInsights to access your Google Analytics account.
Step 7
Choose the website, you wish to connect to google analytics, and click "complete connection".
MonsterInsights will now install Google Analytics on your website.
Step 8
In this step I kept the default settings.
Step 9
Here, MonsterInsights will offer you other paid features that you can add by upgrading to PRO, but you can just click the "save and continue" button.
Step 10
Than you can install another plugin called WPForms, but you can also skip this setup.
Congratulations! You've just connected your wordpress blog to google analytics – that was pretty easy, right?
If you want to see your google analytics stats, all you have to do is go to Insights in your WordPress admin menu than go to reports and Voila! (Just notice that it may take awhile, till you'll see your stats).
I hope this tutorial was easy and helpful.
If you're new to blogging, and terrified by terms like CSS and Hyperlink, check my post here.
If you liked this post I would really appreciate it if you can share it.
Psst…the share buttons are right here 🙂 .